Britney Spears has been receiving tons of support from fans — and from several celebrities, from Paris Hilton to Iggy Azalea — over the past few months. The "Piece of Me" singer has received quite a few messages in the comments sections of her Instagram posts, for example, with many people sending her love and wishing her well as she has chosen to stand up to her father and try to abolish her conservatorship in a court battle that has been raging on for well over a year now, according to The New York Times.
Following Spears' virtual court appearance back on June 23, W Magazine reported that "celebs all over the internet" had been voicing their support for the pop star. The outlet highlighted a few of these meaningful messages, including tweets posted by Halsey, Mariah Carey, and Liz Phair, to name a few. There's one celebrity in particular, however, who has been corresponding with Spears while all of this legal stuff unfolds — and that's Drew Barrymore. In a new interview with Entertainment Tonight, Barrymore revealed that she has been sending Spears video messages in recent months. Keep reading to find out more.
Drew Barrymore has been sending Britney Spears messages of encouragement
Drew Barrymore told Entertainment Tonight that she really appreciates "all the people that have been supporting Britney on social media," but admits that she decided to take a different approach. "I've actually been sending her personal videos," she told the outlet. Barrymore said that she's been sending "encouragement and just telling her that I think she is the key to her freedom." She went on to say that she is very "invested" in Spears' freedom from this conservatorship. "I think everyone deserves the chance to get their life right, wrong and everything in between. This has become such public interest because it's about something bigger. It's about being allowed to live your life. And so, I'm invested in this and I really want her to find her freedom," the "50 First Dates" actor explained. 
Barrymore doesn't know for sure that Spears has been receiving and watching the videos, since the singer hasn't responded directly, but the actor claims that Spears has been sending her "little smoke signals," though she didn't elaborate, according to ET. "[I wanted to] really show her I'm someone who has understood what a journey is like and I don't compare myself to her, but I'm here to support her if there's anything she needs in private," Barrymore said.
Drew Barrymore previously opened up about her past experience in a mental health facility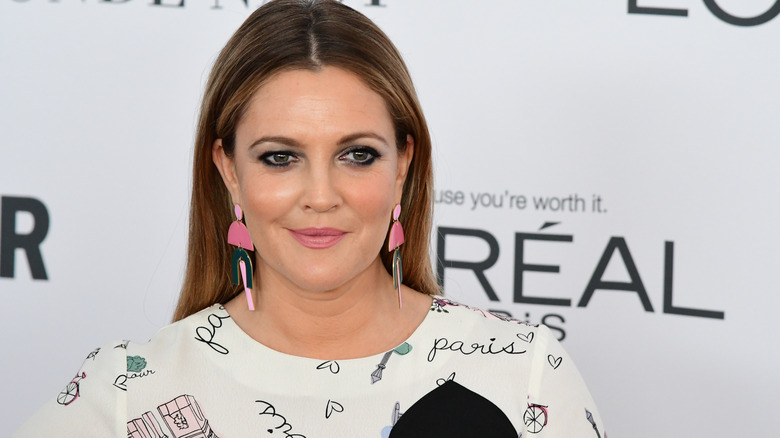 Drew Barrymore got her start in the entertainment industry when she was very young. Not only can Barrymore relate to Britney Spears on this level, but "The Wedding Singer" actor also relates on a completely different level; when she was just 13-years-old, Barrymore was placed in a psychiatric ward for 18 months, according to People magazine. Barrymore opened up about the experience during an interview with Howard Stern on his SiriusXM radio show. "I was in a place for a year and a half called Van Nuys Psychiatric and you couldn't mess around in there. If you did, you'd get thrown either in the padded room or get put in stretcher restraints and tied up," she told Stern back in February.
Many hope that Spears is nearing the end of her court battle. On September 7, Spears' dad filed a petition in court to officially end the conservatorship, according to CNN. While that doesn't mean that Spears will instantly be free from her father and the control that she's been placed under since 2008, it's a big step in the right direction. "This filing represents another legal victory for Britney Spears — a massive one — as well as vindication for Ms. Spears," the pop star's lawyer, Mathew Rosengart, said in a statement after the petition had been filed. 
Surely Barrymore must have been thrilled to hear this news as well!
Source: Read Full Article