*Spoilers for season 1 of Cowboy Bebop below!*
3, 2, 1, let's jam! The highly-anticipated Cowboy Bebop live-action series is finally here and fans all over the world are re-joining Spike Spiegel, Jet Black, and Faye Valentine as they explore the universe. And with someone new seemingly joining them on their adventure, things are definitely going to get interesting as they all come at a crossroads about what to do next. If you're a true fan of the original, then you know there's still a lot more left to the story. So will the live-action series get to come back for another season?
Here's everything we know about Cowboy Bebop season 2.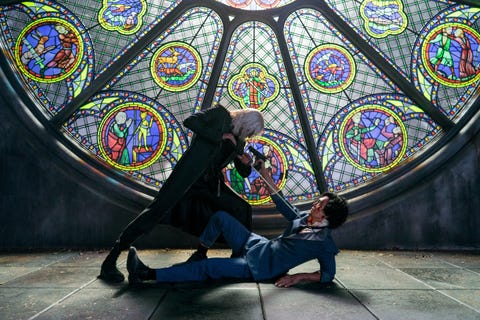 I must know: Is Cowboy Bebop season 2 actually happening?
Fans are still waiting on the big news about a possible season 2. Unfortunately, Netflix hasn't confirmed if it will green light more than a single season or not. But based on the way season 1 ended, it certainly looks like they're setting things up for another round of fun.
What would season 2 even be about?
This is where things get really interesting. In this new version, things have changed especially when it comes to Vicious and Julia. In the original anime, Spike and Julia don't even reunite until the very end of the series and she also doesn't take over the Syndicate and kidnap Vicious. With these new changes, anime fans won't be able to predict what happens next.
Of course, there is one special thing that we can definitely look forward to: Ed has now officially appeared! It sure looks like she's going to be joining Team Bebop. That is, if they get back together. (They have to, right?!)
to everyone who's been asking "Where's Ed?" — you don't have to wait any longer
introducing newcomer Eden Perkins (they/them), who plays the role of Radical Ed in Netflix's COWBOY BEBOP, now streaming pic.twitter.com/ttnL7xdTVb
When will we find out if Cowboy Bebop season 2 is happening?
It takes Netflix a while to make renewal announcements, so it might be a few months until we hear back for sure. Just keep telling your friends to watch the show you're a huge fan so it has a better chance of coming back!
Source: Read Full Article