The following article references abuse allegations.
Here's the serious chiz: the "iCarly" reboot is upon us. As most Nickelodeon fans of the early aughts remember, the original series quickly became a network staple after first premiering in 2007. Throughout its six seasons, it broke viewership records in various age brackets before wrapping in 2012 when star Miranda Cosgrove went to college in real life. The finale, titled "iGoodbye," drew a whopping 6.4 million total viewers, making it the month's top telecast for kids and tweens.
A lot has happened in those 10 years. Jennette McCurdy quit acting (no, she won't be part of the reboot). Cosgrove got old enough to star in a workplace comedy (and probably has a lot of freedom considering she was, at one point, the highest-paid child actor, per Reuters). Nathan Kress is now a father. Most importantly, the rapid rise of streaming and social media has completely changed the way we view web shows. Today, a small YouTube series could become a Hulu smash hit.
With that, "iCarly" has grown up. The premise is decidedly not for kids (sorry, "Lizzie McGuire" reboot) and should serve as a realistic depiction of what the characters are up to as adults. One of the biggest questions that still remains is which actors are reprising their original roles? The original series was notorious for its star-studded cameos, but will any of them return? Here's a look at a few you may have forgotten.
Jack Black played a LARPer in Season 4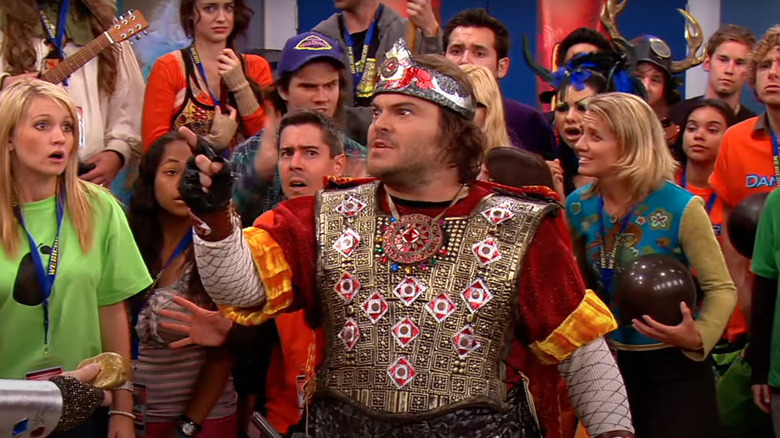 "School of Rock" both put Miranda Cosgrove on the map and was an immediate success. Not only was it the highest-grossing music-themed comedy for more than a decade, according to Digital Spy, it also managed to maintain a 92% Rotten Tomatoes rating (an A- on its report card, but an A nonetheless). It's so beloved that Jack Black's inspiring speech went viral in 2021 — 18 years after the movie first premiered. In other words, Jack Black and Cosgrove go way, way back. It only makes sense that he'd guest star in an episode of "iCarly."
In the Season 4 episode "iStart a Fan War," Black brings LARPing into the mainstream. The comedian plays Spencer's online rival, Aspartamay, who challenges Carly's brother to a duel at a gaming conference akin to Comicon. Though it doesn't quite devolve into TanaCon-level chaos, the medieval costumes were a nice touch. Weirdly enough, Demi Lovato's controversial ex-fiancé Max Ehrich also has a small part in the episode.
Michelle Obama starred in a military-themed iCarly episode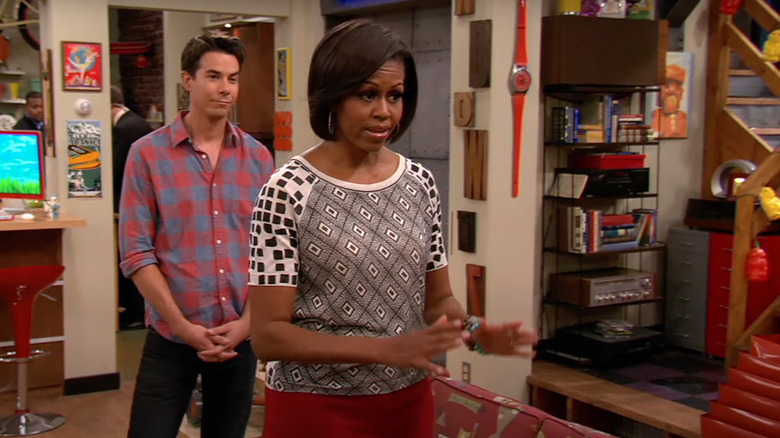 It's not every day a first lady lands a gig on a sitcom, though we could probably argue that Melania Trump was pretty close with her husband's former career as a reality TV host and the sheer number of parodies on "Saturday Night Live." If that ever happened, it'd definitely get a spot on our DV-R, but that would require Trump to reckon with the fact that Michelle Obama did it first.
Obama guest-starred as herself in the Season 5 "iCarly" episode "iMeet the First Lady." According to the AP (via USA Today), her role was "aimed at increasing awareness and support for military families," and creator Dan Schneider wrote the episode specifically to showcase Obama's Joining Forces initiative. Actually, it was the first lady who approached the series to begin with, and Malia and Sasha Obama were big fans.
In the episode, Carly's father — a military colonel — can't come home for her birthday, so the iCarly gang hack into the communication network at his military base to have a video chat. Obama steps in before the group is arrested, apparently unconcerned with such an egregious hole in national security because she's an "iCarly" stan.
According to The Washington Post, a first lady hadn't appeared on a sitcom in nearly 30 years. The last time was when Nancy Regan guest-starred on "Diff'rent Strokes."
Jimmy Fallon gave iCarly its late night debut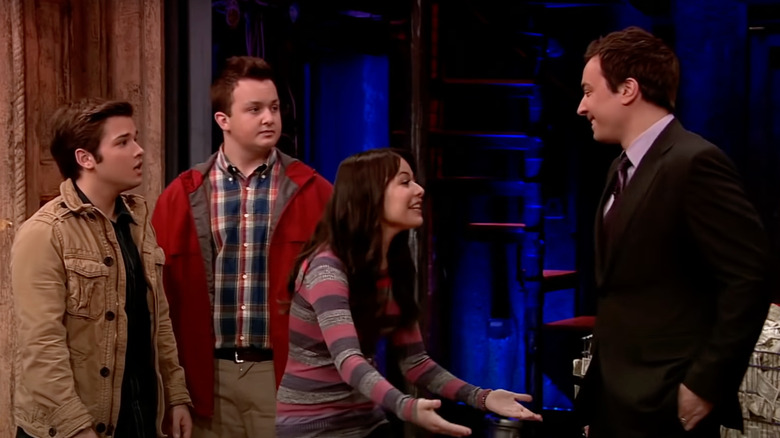 Miranda Cosgrove and Jimmy Fallon have two things in common. For one, the internet has noticed that they're basically doppelgangers. Second, the pair both worked together on "iCarly." Fallon starred in the 2012 episode "iShock America," a meta approach to his famed talk show not too far removed from "30 Rock."
During the Season 6 episode, "iCarly" makes its late night debut. Fallon, who plays himself, discovers Carly and Sam's web show after they spoof some of his skits and invites them to New York for a live performance. Since it's "iCarly," the gang almost botch the whole thing — both their show and Fallon's — but manage to work it out at the 11th hour. As it turns out, filming this episode largely happened at the 11th hour, anyway. Apparently, it's not easy to have a guest star who tapes a live show every night.
In an interview with MTV, Cosgrove admitted they had to work around Fallon's schedule. "We basically got to go in and work at 12:30 at night 'cause we filmed after he taped his regular show," she said. If anything, the coffee budget on set must've been insane.
You can't have Jimmy Fallon without Tina Fey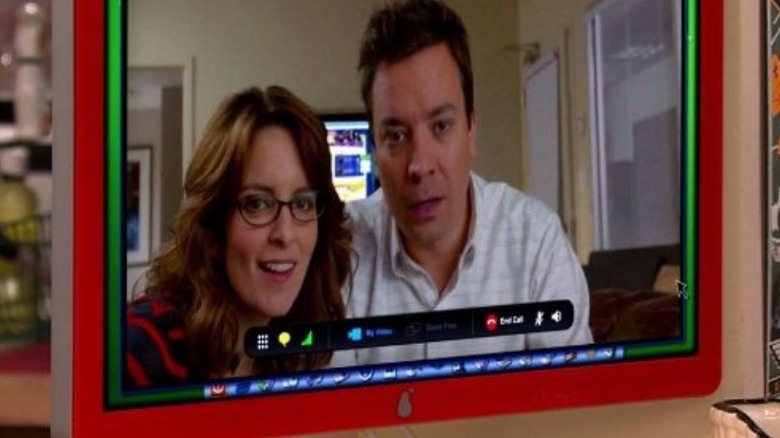 Tina Fey is the arguable queen of meta sitcoms. Her NBC comedy "30 Rock," which aired from 2006 to 2013, was nominated for 103 Emmy Awards, taking home a cool 16 of them. It only makes sense that she'd make an "iCarly" cameo alongside Jimmy Fallon, her "Weekend Update" co-anchor.
By the time "iShock America" aired, "30 Rock" was starting the final stretch of its seven season run. Fey's appearance is brief — just a couple of seconds. She pops on camera to help Fallon end his video chat and is gone in a flash when he successfully shuts off the camera (at least until he accidentally pops back up again). Remember, this was long before the days of Zoom.
Fey is actually a massive "iCarly" fan, which is probably part of the reason why she wanted to do a cameo. In an interview with Entertainment Weekly, the "Mean Girls" creator admitted the series had the "gold standard" of finales. "I was moved to tears by the 'iCarly' finale," she said. "Also, it's like when you have kids and you flash back when they're little kids and now they're young adults." Will she think the reboot holds up? We'll just have to wait and see.
Taran Killam played a secret service agent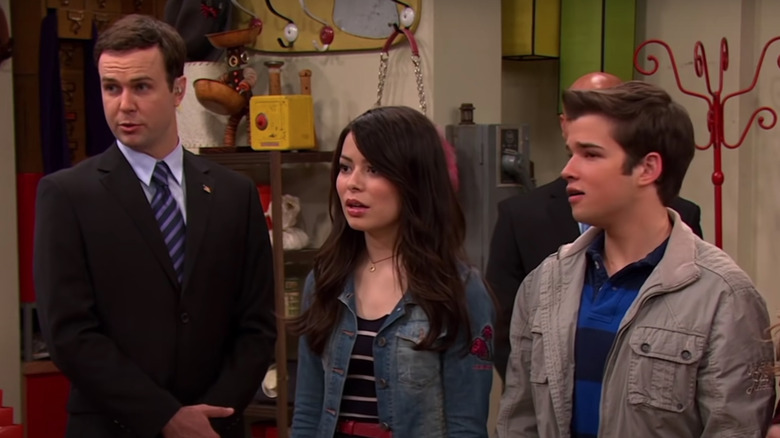 For a children's show, "iCarly" certainly has a knack for tapping talent from "Saturday Night Live." It's not just Jimmy Fallon and Tina Fey. The "Weekend Update" megastars actually followed in the footsteps of "SNL" alum Taran Killam. A season prior, the "Single Parents" star appeared alongside Michelle Obama in "iMeet the First Lady."
Killam's cameo — where he plays a secret service agent named Agent Kinsey — isn't such a far leap for the actor. Though most of us remember his early work on "MADtv," he actually worked with Nickelodeon around the same time: The star appeared in two episodes of "The Amanda Show" as Spaulding, a character in the parody soap opera "Moody's Point." Back then, the sheer angst of the skit felt like what rewatching "Dawson's Creek" feels like today. 
Killam is also part of the Nickelodeon family by proxy. In 2007, he had a regular role on Nick Cannon's short-lived MTV series "Nick Cannon Presents: Short Circuitz." Cannon, who previously starred in "All That" and "The Nick Cannon Show," was the chairman of TeenNick.
Kenan Thompson threw a house party in the iCarly crossover film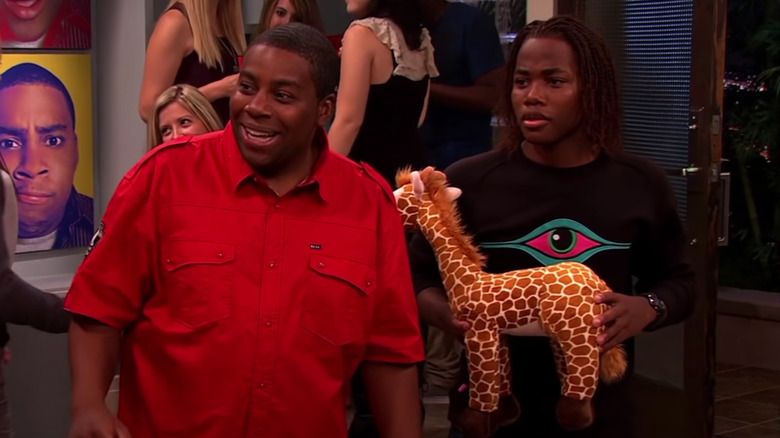 Taran Killam may have gotten in before Jimmy Fallon and Tina Fey, but Kenan Thompson was the original "Saturday Night Live" star to make a guest appearance on "iCarly." He's actually the one with the deepest roots at Nickelodeon. For years, Thompson was a staple of the network thanks to his work on "Kenan & Kel," a series that gave millennials an unhealthy thirst for orange soda, and "All That," a sketch show not too dissimilar to the aforementioned long-running NBC comedy series. Both shows wrapped in 2000, and three years later, the comedian debuted on "SNL."
With "iCarly," Thompson didn't appear in the traditional show. Rather, he had a role in "iParty with Victorious," a 2011 crossover special that blended the worlds of "iCarly" and "Victorious." As a legendary Nickelodeon celeb, Thompson played himself, and the gang ended up at his house party after taking a "Catfish"-inspired road trip to find Carly's new boyfriend Steve Carson.
These days, Thompson's has put Nickelodeon behind him, but he's still tight with his "Kenan & Kel" co-star Kel Mitchell, which brings us to the following point. Though "iCarly" is getting a reboot this time around, isn't a "Kenan & Kel" revival overdue?
With Jane Lynch's guest-starring role, we finally got see Sam's mom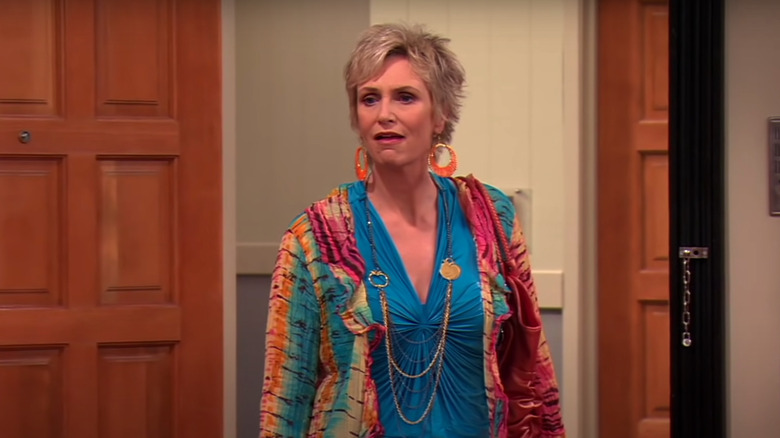 Jane Lynch is a full-fledged TV star. Even if you're not a fan of musicals, the iconic actor arguably made "Glee" worth watching. In the midst of her run with the high school musical drama, Lynch took her patented tough gal attitude over to another district — but this time, as a parent, not a teacher.
Lynch's role in the Season 4 episode "iSam's Mom" ironed out a blind spot in the "iCarly" fandom. Sam's mother had never been pictured, though she was frequently mentioned. Whoever was eventually chosen for the part was going to permanently shape Sam's character. Remember: most of us eventually become our parents, through nurture or nature.
By all accounts, Lynch nailed it. Following the episode's premiere, Entertainment Weekly raved, "She proved a perfect choice to play the tough-talking tomboy's equally tough-talking mother," adding that "Lynch even seemed to be basing her performance on, essentially, doing a great impression of McCurdy's hilariously rancorous character." Leave it to Lynch to prove that the softer side can still be rough around the edges.
One Direction landed a gig on iCarly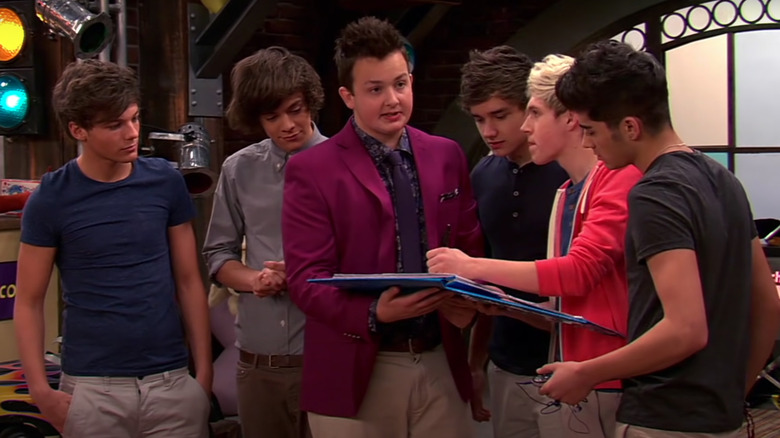 2012 was a simpler time. "Watermelon Sugar" didn't incessantly play in grocery stores across the nation. One Direction's seemingly petty in-fighting hadn't become near-constant tabloid fodder. "Style," a Taylor Swift song that may or may not be about Harry Styles, had yet to be written. Zayn Malik wasn't getting into shirtless fights outside of New York City bars. One Direction could still make an appearance on a kids' show without fans reading into their body language, wondering who hates who and who's formed an alliance. It was an era of swoopy hair and skinny jeans that we can't get back, but we'll always have the band's "iCarly" episode.
In the Season 6 episode "iGo One Direction," the boy band starred as themselves. This wasn't just a guest-starring role on the Nickelodeon series. The quintet also appeared on the on-screen "iCarly" web series (proof that "iCarly" would never miss an opportunity to go meta). Their performance was almost foiled when Harry fell ill — or rather pretended he was ill for Carly's continued attention. As it turns out, the thought of Gibby joining the band was so egregiously awful that Harry decided he was suddenly better, and the show went on. Everyone loves a storyline with an overdramatic TV pop star, but this one took it up a notch with a performance of the very real hit "What Makes You Beautiful."
Things got meta when Drake Bell stopped by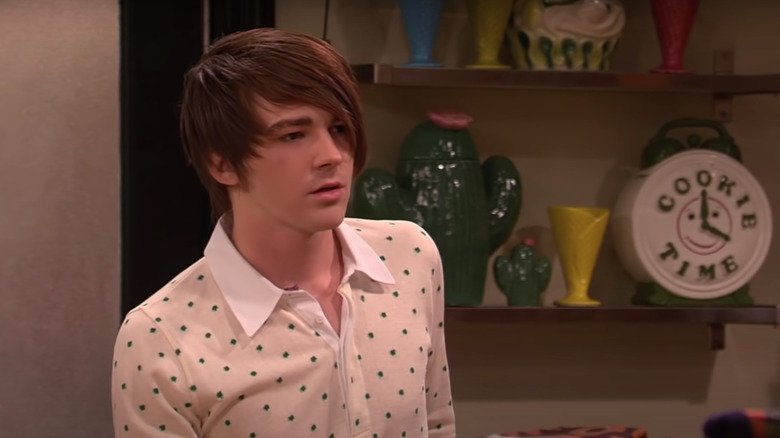 There was a time when "Drake & Josh" set audience records, including breaking their own record for "most-watched TV movie in Nickelodeon history," according to TV Guide. In many ways, the beloved series was a precursor to "iCarly." Miranda Cosgrove proved herself enough in the role of Megan Parker, on-screen sister to stars Drake Bell and Josh Peck, that she didn't even have to take a break from the network. The same month that "Drake & Josh" ended in 2007, "iCarly" premiered.
Considering the history, a cameo for Drake Bell seems like an obvious choice, but Nickelodeon didn't really give him one that was fleshed out. The actor only pops up in the Season 3 episode "iBloop," which serves as a clip show of bloopers and archival footage. Weirdly enough, the actor actually plays his sitcom character Drake Parker, and refers to Cosgrove — who was Carly — as Megan. Though it was probably an offhand joke, it's also a can of worms — but by now, Bell is used to those.
In recent years, the former sitcom star has been a source of controversy. His ex-girlfriend leveled allegations of abuse in 2020; in a statement obtained by USA Today, Bell's rep issued a denial. And in June 2021, Fox8 reported that he was hit with a felony charge stemming from alleged "inappropriate" chats with a teenager some years ago, to which he pleaded not guilty. It's safe to say, he probably won't be in the reboot.
If you or someone you know is dealing with domestic abuse, you can call the National Domestic Violence Hotline at 1−800−799−7233. You can also find more information, resources, and support at their website.
Chord Overstreet played a model on iCarly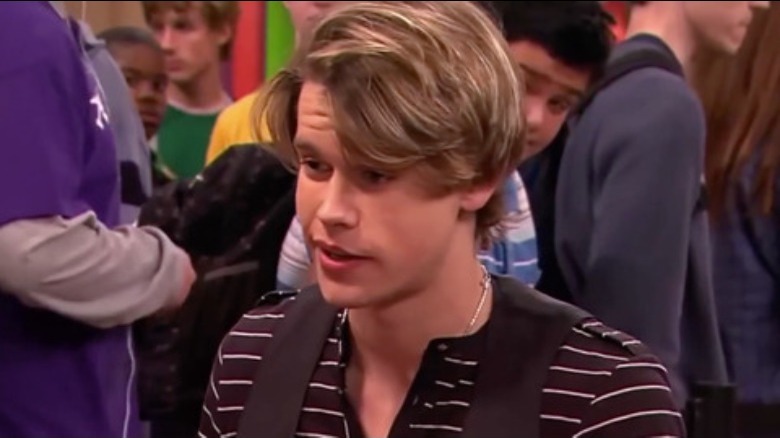 Jane Lynch wasn't actually the first member of the "Glee" cast to land a cameo on "iCarly." A season prior, Chord Overstreet portrayed the model speed dater Eric in the episode "iSpeed Date." At the time, he had yet to debut on Fox's famed musical series, but it was clear that he would eventually become the kind of star to grace the pages of Tiger Beat (if Tiger Beat still published physical issues). 
"iCarly" was Overstreet's second professional credit, a milestone shared with "Teen Wolf" actor Jordan Fisher. Both appeared in the episode, but it took Fisher a bit longer to become a household name. Three years after his cameo, he landed a nine-episode story arc on the schmaltzy (but strangely addicting) teen drama "The Secret Life of the American Teenager." As for Overstreet, he hasn't done too much since "Glee," but as Deadline reported in April 2021, he joined an Apple TV+ comedy that shows promise.
iCarly brought Jim Parsons on board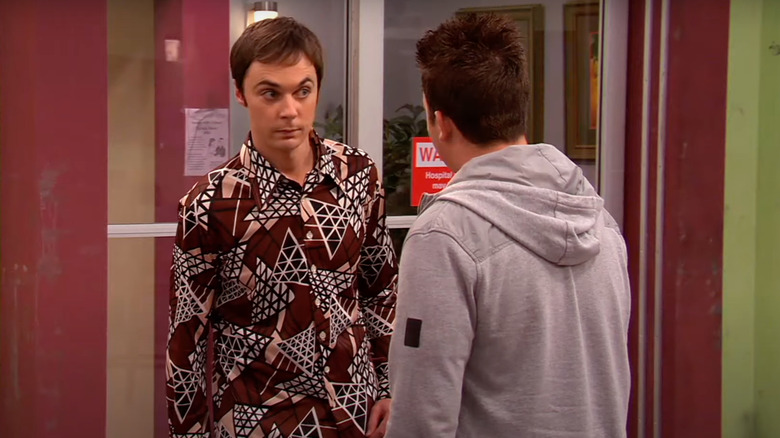 Jim Parsons didn't need "iCarly." By the time he guest-starred as a psychiatric patient who believed he was from the future, "The Big Bang Theory" was gearing up for its fifth season. Despite the fact that the nerdy CBS comedy was largely "loathed by critics" according to Independent, most people regarded it as the most popular sitcom in America. At the end of its record-breaking 280-episode run, it even beat out the viewership of "Game of Thrones" by nearly five million people, and the show's success is largely responsible for Parsons' $160 million estimated net worth.
With that taken into account, it's likely that "iCarly" was a passion project. At the time, Entertainment Weekly reported that Parsons was also starring in "The Normal Heart" on Broadway, and he admitted that his "iCarly" character allowed him to flex a different muscle than his day job. "[Caleb] is so out of touch with his mental faculties whereas Sheldon is more in touch with his mental faculties and more able to utilize them than really any human being I've ever met," he told ET.
Parsons' episode, "iLost My Mind," aired in 2011 during Season 5.
iCarly didn't let David Archuleta come in second place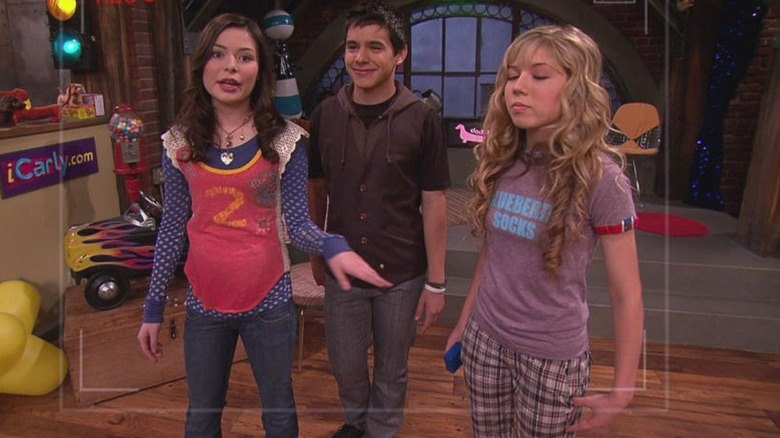 Like much of the cast of "iCarly," David Archuleta was a child star. At just 16 years old, he rose to fame during the seventh season of "American Idol." Though he ultimately lost to David Cook in the finale, second place isn't all that bad when you can parlay it into an entire career. This included his guest-starring role on "iCarly," which mimicked his actual life.
In the Season 2 episode "iRocked the Vote," Archuleta plays a fictional version of himself, and Nickelodeon's writers give him a chance to right the universe's great injustices (mainly, his status as a reality contest runner-up). Instead of "American Idol," the singer competes in "America Sings" (which is just about the same thing) and uses Carly, Sam and Freddie's web series to rack up enough votes to emerge victorious. Archuleta is second place no more, if only in our imaginations.
In the lead-up to his debut album, David Archuleta actually made the teen sitcom rounds. The same year as his "iCarly" guest spot, he appeared on "Hannah Montana." We're not sure what kind of sorcery that is, but Archuleta remains one of the few stars able to cross freely between Nickelodeon and The Disney Channel.
Emily Ratajkowski was a guest star before she was music video star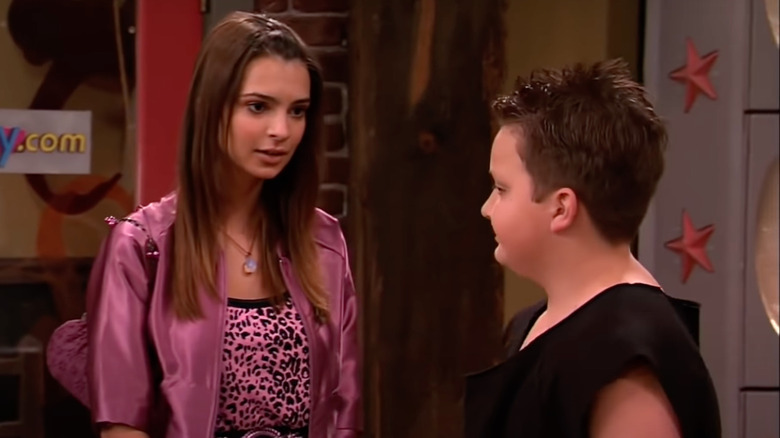 Season 3's "iSpeed Date" was shockingly star studded. It didn't just introduce the world to Chord Overstreet and Jordan Fisher. It gave us model Emily Ratajkowski, who rode out her appearance with a two-episode story arc as Gibby's short-lived girlfriend, Tasha. Over the course of "iSpeed Date" and "iEnrage Gibby," the pair's relationship crumbles into a sea of broken trust and regret as Gibby (wrongfully) fears that Tasha is cheating on him with Freddie. Dramatic, right? Apparently, not enough to keep Ratajkowski interested.
"It was my first and only acting job," she told Rolling Stone in 2013. "I didn't grow up with TV, so I didn't even know what the show was when I auditioned. I only did two episodes, so I was just on set about two weeks."
A couple of years after the model's "iCarly" spot, Robin Thicke's "Blurred Lines" made her a household name. Today, Ratajkowski is less concerned with school dances and more concerned with taking care of her newborn daughter.
Emma Stone was an iCarly superfan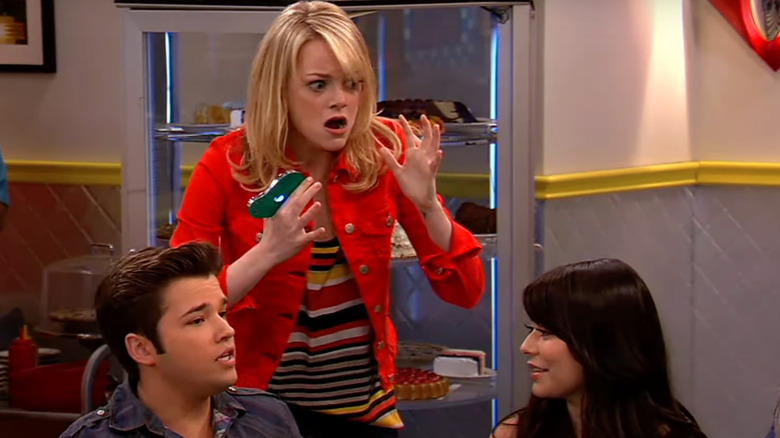 When Emma Stone made a cameo on "iCarly," it was arguably the height of her comedic acting career. The movie star had a few years of distance from "Superbad," the flick that effectively put her on the map, and she was regularly churning out blockbuster hits like "The House Bunny," "Zombieland," and "Easy A." Arguably, her one-episode guest spot was the perfect detour to the small screen. In the movies, she was effortlessly funny, but in a sitcom, she could push her boundaries into the realm of truly outlandish.
That's exactly the path Stone took when she embodied "iCarly" superfan Heather in the Season 6 episode "iFind Spencer Friends." Her portrayal was so popular that it went viral in 2018, a whopping six years after it originally aired. Today, the rehashed clip served as a permanent reminder of Stone's versatility.
Since "iCarly," the actor's roles have run the gamut. She's embodied everything from a recovering drug addict in "Birdman" to 18th century British royalty in "The Favourite." Her work has garnered numerous awards and nominations — including her Oscar for "La La Land" — and at this point, she seems impervious to network rivalries. 
Stone belongs to the small club of stars who can float between The Disney Channel and Nickelodeon. She got her start on "The Suite Life of Zack & Cody" years before "iCarly." More recently, she embodied one of Disney's cruelest villains in "Cruella."
Source: Read Full Article