The Doctor Strange in the Multiverse of Madness actress opens up to TooFab about her journey on the dance competition series, while she and her partner Val Chmerkovskiy tease their jazz performance to Gwen Stefani's "Hollaback Girl."
As she heads into Week 7 on Dancing with the Stars, Xochitl Gomez is reflecting on her experience competing on the show so far.
And it's safe to say, it's bananas (B-A-N-A-N-A-S!)
In an interview with TooFab alongside her DWTS pro, Val Chmerkovskiy, the Doctor Strange in the Multiverse of Madness star opened up about going through the dance competition series' rigorous training, including learning firsthand how a dancer can easily get injured.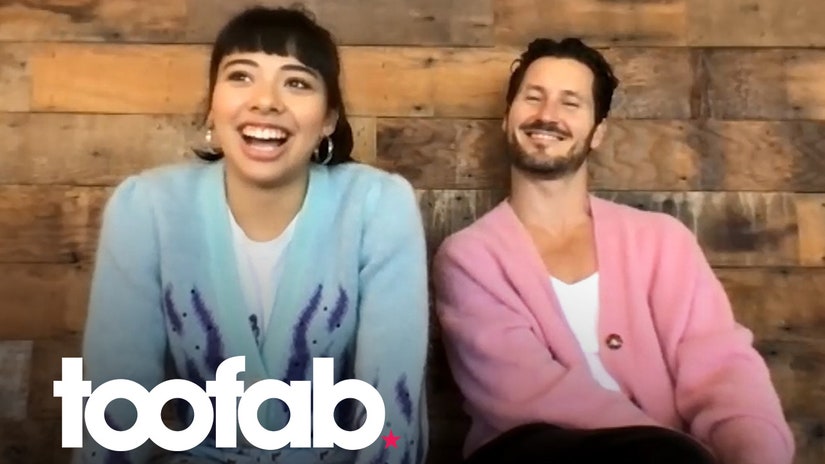 Last week, Xochitl and Val received three 9s and a 10 for their stunning contemporary routine to "Game of Survival" by Ruelle. However, the actress was injured during the performance after she scraped her knee on the altar. Looking back, Xochitl said it was "scary in the moment," sharing that she was initially concerned it was an injury that would force her to leave the competition. Fortunately, after some ice and a bandage, she was ready to go. In fact, she and Val went on to win the Dance Monster-thon.
However, a few days after TooFab spoke with Xochitl and Val, the former got injured again, spraining her ankle during rehearsal for their upcoming jazz performance of Gwen Stefani's "Hollaback Girl" for Music Video Night.
The 17-year-old assured fans she's going to be alright. Xochitl shared a video of the moment — which looked so painful! — on TikTok, while also stressing that she's "good."
Waiting for your permission to load TikTok Post.
TikTok Post Unavailable
"This shiiii is BANANAS! 🙈😭🤪 im good tho! A lil sprain but WE WORKIN!" she captioned the TikTok video, below.
While speaking with TooFab, Xochitl and Val teased their Tuesday performance, with the former gushing over Stefani and her love of "Hollaback girl." Meanwhile, Xochitl also spoke about how dance training compares to preparing to play a superhero in the Marvel Cinematic Universe; She played America Chavez in 2022's Doctor Strange in the Multiverse of Madness.
See more from Xochitl and Val in TooFab's interview in the video, above, and read on for the Q&A, below!
What can you tell us about your upcoming jazz routine to Gwen Stefani's "Hollaback Girl" for Music Video Night? What inspiration (themes, aesthetic, costumes, etc) are you taking from the video?
Val: I'm inspired by the chant of it, and it sounds like an empowerment chant. And it's a video that she loves.
Xochitl: I love Gwen Stefani. I don't know how much I can express. Actually, for my Week 2 salsa, I kind of made my look inspired by Gwen Stefani's No Doubt era where she was wearing lots of stripes. That's how much I love her, and I'm very excited for this one.
Val: That's how I ended up doing a salsa in a flannel because she loves Gwen Stefani so much.
Xochitl, you were probably around two years old when this song/video came out. Can you remember when you first heard the song? Did you already know most of the lyrics before this?
Xochitl: I know the entire song, and I usually when we're like practicing or at least marking it, I'll sing it along just 'cause I actually find knowing the song so much easier when you're trying to learn choreography because you know the tempo and you know the lyrics, and you know what to hit and where. I don't remember when I necessarily started listening to Gwen Stefani, but I think it's mainly 'cause my mom has a lot of great music influences.
I just kind of listened to it all the time. And I think that's the benefit of having a cool mom is that you get to listen to really cool music and memorize it and [do it] on Dancing With the Stars.
Unable to render YouTube Video.
Have you met Gwen Stefani?
Xochitl: I have not. She's awesome. I'm manifesting that for my future,
We also want to congratulate both of you on your stellar contemporary performance last week — and you won the "Dance Monster-thon!" But Xochitl, you got injured. How are you feeling now? Are you fully recovered?
Xochitl: In the moment, I had scraped my knee on the altar, but my knee kind of went kind of numb, and all I knew is that it was on my kneecap. So I wasn't sure what had happened. It is just a scrape right there. But we're all good. It was just kind of scary in the moment because when you can't feel something, and you can't look down and check, it's okay, you have to kind of stay in the moment.
Thoughts kind of roll in, and you are like, "Wow, this could be an injury, and I could possibly not be on the show anymore. This could be something that is serious." And so once I got a second to look down and see what it was, I was like, "Okay, we're good." And so I put some ice on it, and the medic put literally a bandaid on it, and I was like, "We good? We ballin.' Monster-thon!"
Which pairing in the show would you say is your biggest competition?
Val: Xochitl and Val.
Waiting for your permission to load the Instagram Media.
Instagram Media Unavailable
Xochitl, which is harder, training to be a superhero or training for DWTS?
Xochitl: Ooh, I think Dancing with the Stars just because it's stuff that I've never really done before. Doing stuff for being a superhero … I've done martial arts, that's kind of my background, so I was kind of prepared for that. Where here, I don't really know how to dance. All the stuff that I know is TikTok and musical theatre [from] when I was five to 12 doing youth productions that are super uncoordinated, very bad choreography that you're most of the time just running around. So this is a whole other level where I just had to really kind of follow the teacher.
I guess the one thing that helped me out a lot was doing Zumba 'cause then it made me kind of pick up stuff quickly 'cause you get that three seconds to figure out what the teacher's doing to do it and then repeat that over and over again.
Xochtil, after the show, looking forward, do you see yourself wanting to take more dance classes, maybe do more Zumba, that sort of thing? Do you think you will continue to have dance in her life?
Val: She won't be able to afford lessons with me, that's for sure.
No discount?
Val: Discount? What do you mean? She's getting a discount right now for three months!
Watch Xochitl and Val hit up the dance floor on Dancing with the Stars on Tuesday night at 8 p.m. ET on ABC and Disney+.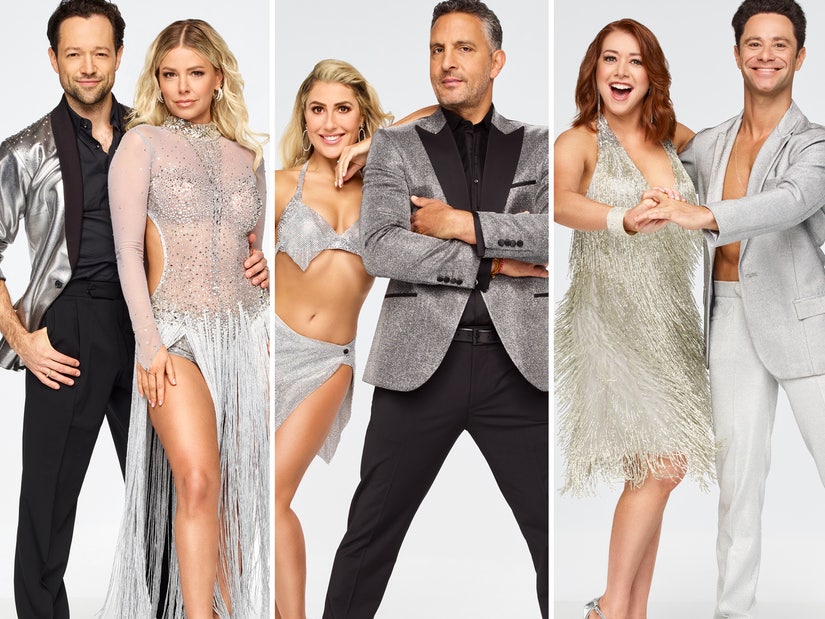 Source: Read Full Article