Post Malone took time out of his concert on March 6 to reassure fans that he is healthy and not using drugs. He felt the need to reassure fans after videos of his onstage behavior went viral, leading fans to worry about him.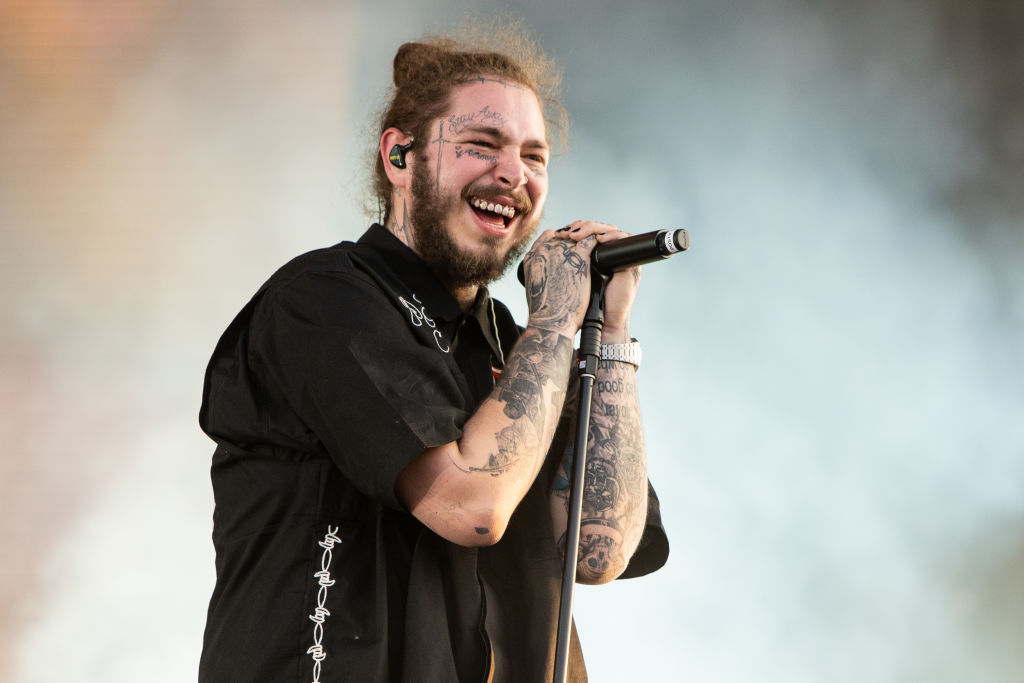 Videos of Post Malone went viral
On social media, fans shared multiple videos of Post Malone in concert. The videos showed the artist falling over, struggling to pick up his microphone, and rolling his eyes. Based on the video clips, fans assumed that Post Malone was using drugs. These assumptions caused the videos to go viral as people expressed their worry for Post Malone.
"This breaks my heart so much #PostMalone," one fan tweeted.
"I don't know whats going on with post malone but all the jokes aside, he clearly needs help. #PostMalone," wrote a Twitter user.
"I've seen people say this is normal but I know for a fact it isn't. I've seen the 2018-early 2019 concert post and this is wrong we've lost multiple legendary artist to abusing drugs and no one helping. Someone needs to help this man. He's miserable. #PostMalone," a fan tweeted.
Post Malone told fans he is not using drugs
At his concert at the FedExForum in Memphis, Tenn., Post Malone addressed fans' concerns. He took a break during the show and gave fans a brief speech about his health. During his talk, he reassured fans that he is healthy and not doing drugs.
"I'm not on drugs. I feel the best I've ever f**king felt in my life. And that's why I can bust my a** for these shows and f**king fall on the floor and do all that fun s**t. But for anybody that's concerned here, I appreciate the love and the support, but I feel f**king fantastic and I'm not doing drugs," he said.
Like the original viral videos, fans recorded Post Malone's speech. The videos of his reassurance spread throughout social media, relieving fans who were worried about him.
"Post Malone said today that he's not on drugs and that he's feeling the best he's ever felt. So glad that he's okay," a Twitter user wrote.
Post Malone's tour photographer spoke up
Adam DeGross, the photographer for Post Malone's tour, also reassured fans that the rapper is not using drugs. In a now-deleted Instagram post, he gave explanations for the onstage behavior fans were concerned about.
"This has been one of the most fun tours we've been on. No one does drugs, no one is going nuts, everything is all good," he wrote. "He legit blew his nose during the space ghost Bigfoot video, which there's like 40 Minutes more footage of. We just pass the time by making funny videos."
The photographer continued, "The stage is made of grates, so you can see the light shine up, he caught his foot, and played it off.
Then he always makes those faces during 'Rockstar' has done it for the last 100 shows."
Source: Read Full Article