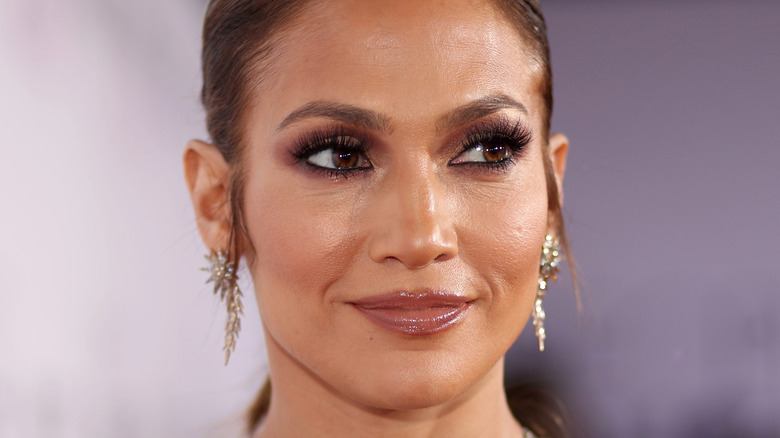 You probably know her as JLo or maybe Jenny from the block. Ever since the early 2000s, Jennifer Lopez has been a huge part of the pop culture zeitgeist. She began her career as a singer and actress before becoming an entrepreneur. With eight albums, over 100 acting credits, a successful fragrance line, and a recent skincare line to her name, Lopez doesn't seem to be slowing down. You probably remember her performances in films like "Selena," "Gigli," and "Maid in Manhattan," and her hit songs "On The Floor," "Love Don't Cost a Thing," and "Ain't Your Mama."
Lopez was born in 1970 into a Puerto Rican family in Bronx, New York. She got her start as a dancer in the show "In Living Color." Eventually, she landed her breakthrough role in the 1997 biopic "Selena" about the late beloved singer, and, just one year later, began recording her first album. The rest is history. We all know about the countless successes throughout Lopez's career, but there are a few things even the biggest JLo fans may not know — like how she got her famous nickname. Here are a few things you never knew about Jennifer Lopez.
Jennifer Lopez looks up to these fashion icons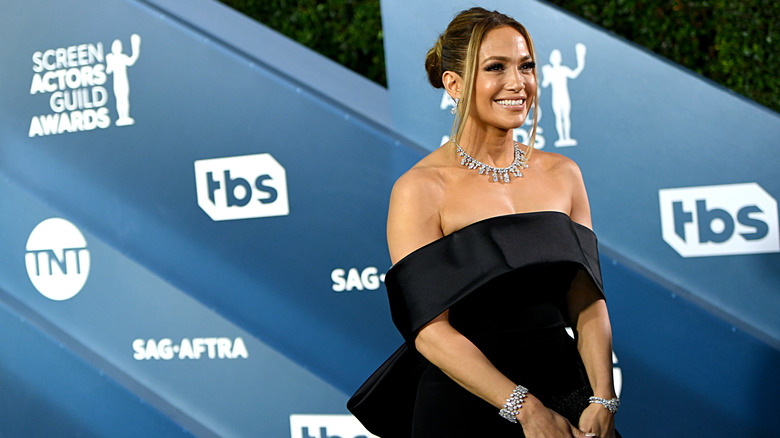 One thing Jennifer Lopez knows how to do is strut a red carpet. Her flawless, timeless style is one of our favorite things about this star. It turns out, even superstars like Lopez have to get their inspiration from somewhere. As she explained to InStyle, she has always been influenced by the likes of "Veruschka, Marilyn Monroe, '80s and '90s Madonna, Jackie O." Veruschka was a supermodel in the '60s, and, of course, Jackie Onassis was the First Lady in the '60s. Monroe was a star in the '50s and '60s — it sounds like Lopez is heavily influenced by the glamorous mod styles of the mid-20th century — combined with the grunge twist of Madonna.
In fact, the star once said, "If you mix Jackie O with Madonna in the '80s and Ava Gardner, that would be kind of like my style" (via Female First). No wonder Lopez always looks so impeccable.
Jennifer Lopez fell in love at age 13 and had her first relationship at age 15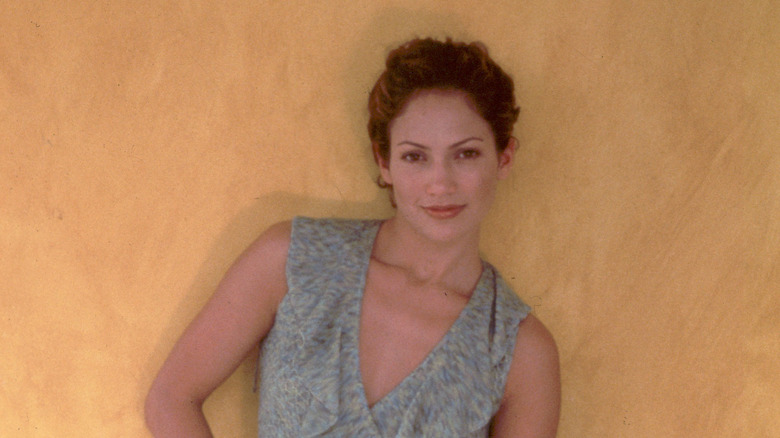 Jennifer Lopez has starred in a few successful rom-coms over the years — you probably remember "Maid in Manhattan," "The Wedding Planner," and "Monster-in-Law" — and, as it turns out, she had her first experience with love when she was very young. In an interview with Alan Carr, she was just 13 years old when she fell in love for the first time. Her crush, she recalled, was her next-door neighbor, Louis.
Of course, Lopez's relationship with Louis didn't last long. Her first real relationship was David Cruz, whom she started dating when she was just 15 years old. Cruz and Lopez were high school sweethearts who "grew up together" and were together for nine years. As she told the Daily Mail in 2004, "His best friend was dating my best friend. He saw me and fell in love with me right away."
This was Jennifer Lopez's favorite movie to be a part of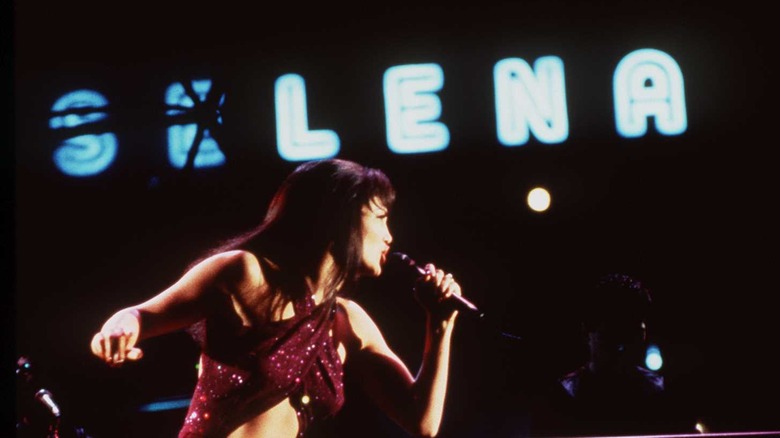 Jennifer Lopez has numerous film credits under her belt; however, one project stands out in her memory. In an interview on Good Morning America, Lopez revealed that her favorite project had to be "Selena." "I mean, it was my first big starring role … as a young actress to be given a lead in a movie like that was a dream come true." She went on to explain that it was a huge honor to play the beloved Latina icon Selena Quintanilla.
At the time, Lopez worked hard to play the character truthfully. As she explained in an interview with Access Hollywood, she only became emotional about the project when she watched the movie herself. She even called it "the most important movie" she had made because it placed the focus on a Latina woman. It's clear that this movie had a huge impact on Lopez.
Here's what Jennifer Lopez eats on a cheat day
Jennifer Lopez is famous for her flawless, youthful look. Although she turned 52 in 2021, many fans would say that she has barely changed since her "Jenny from the block" days. It should, therefore, come as no surprise to learn that the star has a pretty strict diet and fitness regime. 
However, as she revealed to Entertainment Tonight, every now and then, she isn't afraid to treat herself with an indulgent cheat day. "The other night after the American Music Awards, I went to McDonald's," she confessed. As she explained, she had been working incredibly hard to get ready for her performance. "I was working out every day," she said. So, she headed straight to a McDonald's drive thru for a double cheeseburger meal — with lots of ketchup! Apparently, she hadn't had McDonald's in about three years. This hardworking superstar definitely deserved a cheat day!
After experiencing heartbreak, Jennifer Lopez taught her daughter how to be independent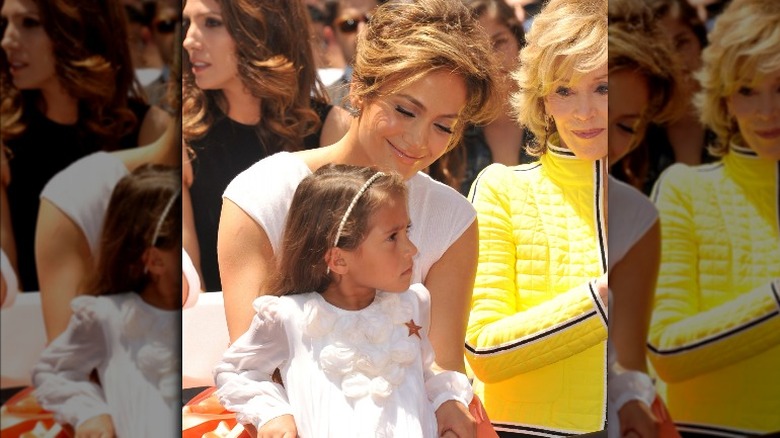 Jennifer Lopez has been in some pretty high-profile relationships over the years. We all remember the likes of Ben Affleck, Marc Anthony, and Alex Rodriguez, to name a few. While Lopez grew up believing in an idyllic, storybook version of love, her experiences with men have taught her that the fairytale ending doesn't always exist.
In an interview with Red, she explained that she always thought, "'A Prince is going save you,' 'Wait for true love and that's what makes you happy,' 'If you're not married, you're not happy.'" Because she had to learn about love the hard way, she made sure that her daughter wasn't raised with the same expectations. And it seems to be working. When she was 8, she told her famous mother that she wasn't interested in marriage. "When she said that I was like 'YES!' because I've been teaching her to love herself since she was little," Lopez said.
Jennifer Lopez hates this one thing about Ben Affleck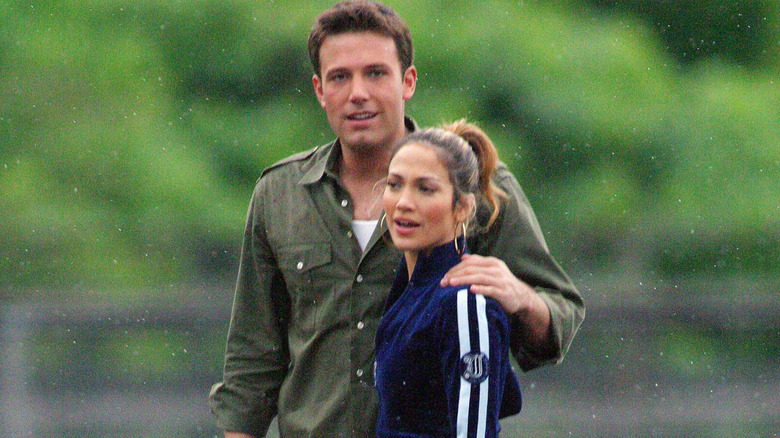 Jennifer Lopez and Ben Affleck dated from 2002 to 2004. However, in 2021, the pair got back together (via Insider), with close friends believing the two are "soulmates." In 2016, Lopez appeared on Watch What Happens Live with Andy Cohen, where she revealed one particular thing about Affleck that she couldn't stand — his tattoos. When Cohen asked her about the actor's huge, colorful phoenix tattoo on his back, she yelled, "It's awful!" She went on to explain that his tattoos were too colorful for her liking. "They shouldn't be so colorful, you know what I mean. They should be, like, cooler, I don't know."
Affleck reportedly got the tattoo in 2015, years after dating Lopez. And she wasn't the only one who disliked it. But, as Affleck told Ellen DeGeneres in 2019, he doesn't care what others think. "It represents something really important to me," he said. And, clearly, Lopez was able to get past her hatred of the colorful phoenix since the pair rekindled their romance in 2021.
Jennifer Lopez learned this surprising skill for a film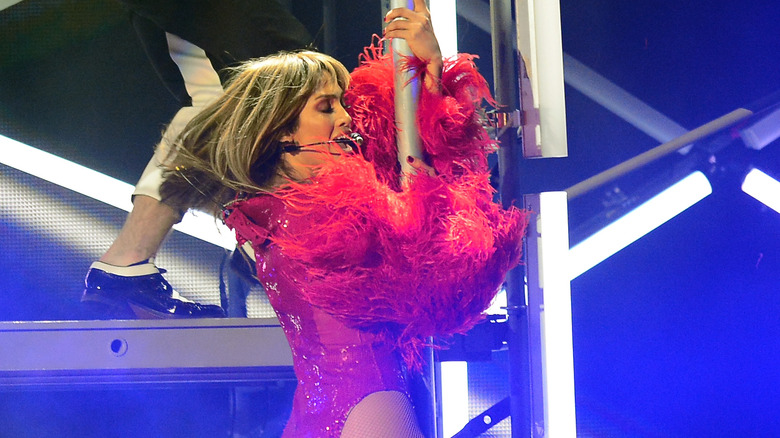 Jennifer Lopez is, without a doubt, a multi-talented woman. In 2019, Lopez spoke to Jimmy Kimmel about her preparations for the film "Hustlers." As she explained, the role involved a type of dance that she hadn't tried before — pole dancing. Lopez said she had used a portable pole at her home, and a personal instructor from Cirque du Soleil had come to her house to teach her. "I mean I have bruises everywhere, it's so hard," she said. "I have a lot of respect for people who do the pole." As Lopez went on to explain, she was playing a stripper who hatched a plot to rob Wall Street bankers.
Lopez later appeared on Late Night with Seth Meyers, where she admitted that performing her pole dancing on set of the film was actually pretty scary — at first — because she had to perform in front of 300 extras. "By the end of it, I felt like I had been doing it for years, there was an empowerment to it," she said. It sounds like she learned a lot more than just pole dancing from the experience.
Jennifer Lopez participated in the BLM protests in 2020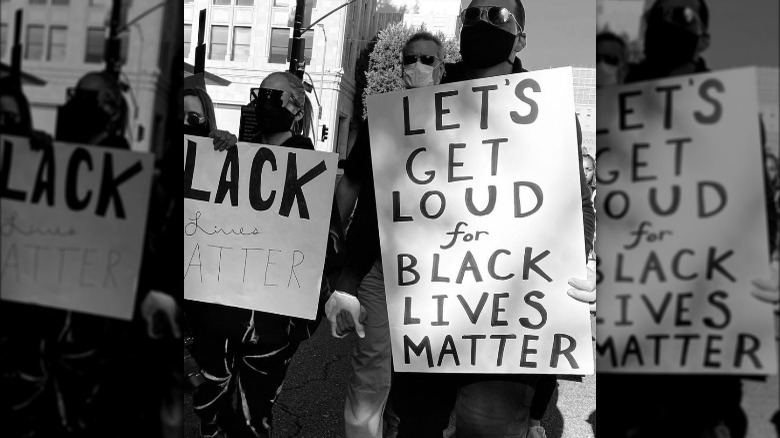 A large part of 2020 in the United States involved protests and discussions surrounding the Black Lives Matter movement. Like numerous others, Jennifer Lopez decided to stand in support of the movement and even attended a protest with her family. As she told Allure, "The whole thing that was happening with police brutality, the Black Lives Matter movement, Latinos at the border — you feel like you had to contribute," she said.
Apparently, it was her son who had initially encouraged her to take a public stance on the issue. He reminded her that she had a big platform and that her voice would be heard. For Lopez, being part of a protest was a new and intimidating experience at first. As she put it, "I'm not used to being in big crowds like that — I'm always on the stage." However, she quickly got into the spirit and thought it was an incredible experience to be a part of. "So many people, different ages, races — it was a beautiful thing," she said.
This is the fitness regime that suits Jennifer Lopez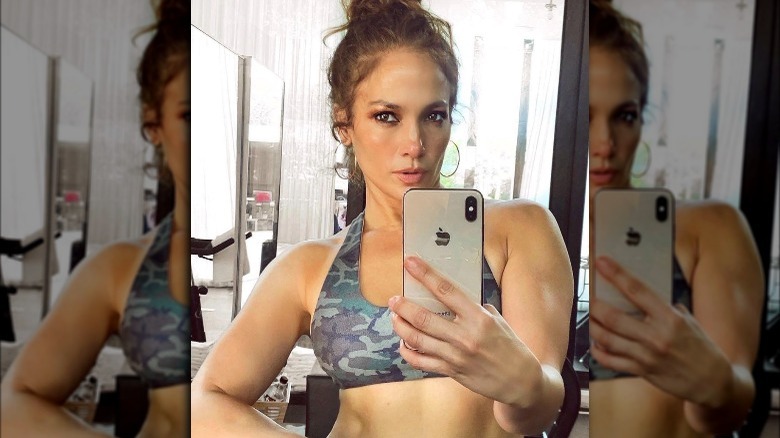 There's no denying that Jennifer Lopez has a killer bod. And, naturally, those sculpted arms and toned abs don't come out of nowhere. Lopez has a pretty regimented workout routine. According to her trainer, Dodd Romero, she exercises four or five times a week for an hour each time. Her routine, as outlined in Oprah Daily, sounds intense — one workout consists of literally hundreds of sit ups and crunches without a break between sets. There's also a lot of squats, planks, and lunges.
While Lopez's routine is certainly hardcore, she is starting to slow down as she gets older. As she told Red, "I don't kill myself, like I used to when I was in my [20s]." These days, she's usually happy combining a few workouts a week with hot yoga and dancing. Sounds like balance really is the key to health and fitness for this star.
Jennifer Lopez once took part in a triathlon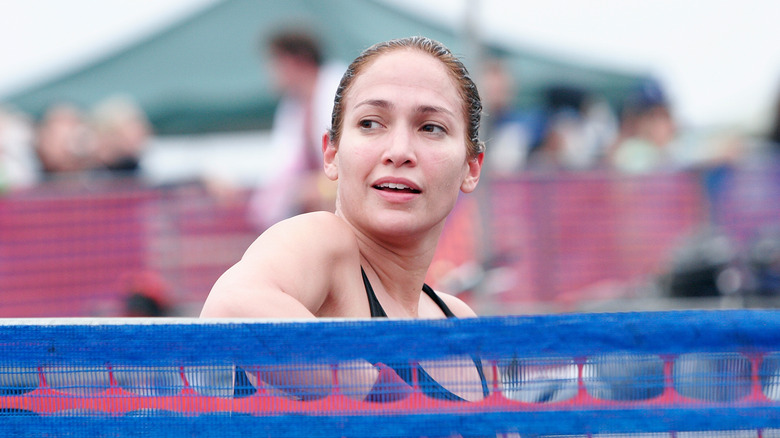 As if Jennifer Lopez wasn't already impressive enough, it turns out, she once competed in a triathlon on a whim. In her book "True Love," Lopez revealed that she hadn't exactly had a lot of experience in the lead up to the race, which consisted of a half-mile swim, an 18-mile bike ride, and a 4-mile run. "Now, understand, I had never done a triathlon before," she wrote in the book. "I had run a 10k when I was [12], but never anything close to a triathlon." When she began the race, she recalled realizing that she may have been a little too hasty signing up for the difficult race (via HuffPost).
However, in the end, she finished the race in 2 hours, 23 minutes, and 28 seconds (via People). On Good Morning America, she even revealed that she was eight months pregnant when she had decided to do the triathlon — which makes this achievement even a bigger feat for the star. "This is not something that is natural to me," she said, "But it's something that I feel is a challenge — I'm always into challenging myself and seeing what I can do." Well, she certainly proved that this was another thing she could do.
Jennifer Lopez is a big fan of this self-help book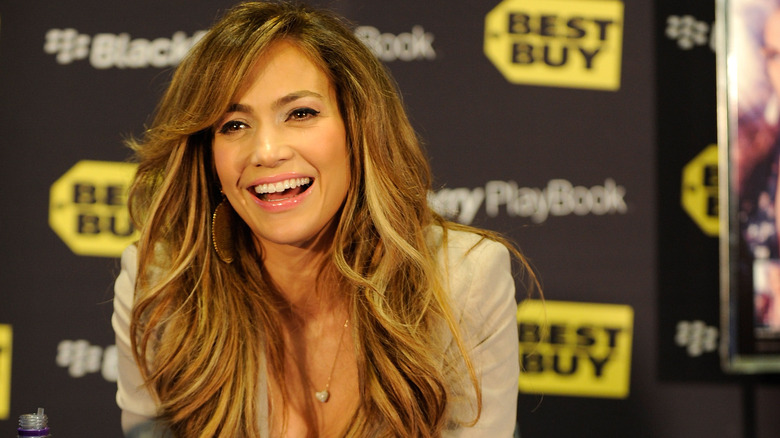 Have you ever noticed that Jennifer Lopez always seems to have a positive outlook on life? Well, this may be because she is really into self-help books. In an interview with People, the star said that the book she would bring with her to a desert island would be "You Can Heal Your Life" by Louise Hay.
Lopez went into more detail about her love of self-help books in her own book, "True Love." As she explained, going through her divorce with Marc Anthony was an extremely difficult time in her life, where she turned to self-help books. Hay's book, she wrote, is "all about how you can make your own reality and your own destiny by the power of your own positive thoughts." Lopez reread the book, and, a few weeks later, the author, herself, actually came to her house. Hay told her, "You're a dancer, right? When you're learning a dance, if you mess up a step, you don't beat yourself up over that step, or get angry or hate yourself for it, do you? You just keep going and you do it again." 
For Lopez, this was the best advice she could have received. It sounds like Hay and her book have been a hugely important part of the entertainer's journey.
Jennifer Lopez gets through tough times by focusing on the positive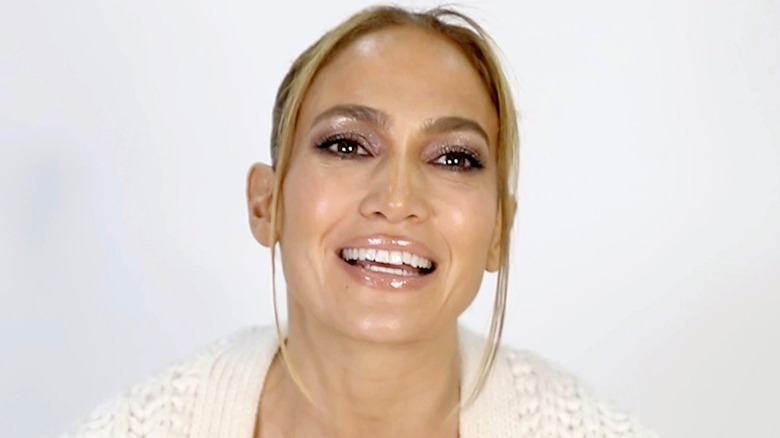 Jennifer Lopez hasn't had the easiest career. As a Latina woman breaking into the entertainment industry, she had to deal with discrimination and stereotypical labels, especially when she was younger. While she can no longer recall specific instances, she admitted that she wasn't treated fairly at times when she was younger. But, unsurprisingly, JLo wasn't having any of it.
As Lopez explained to GQ, she tries not to spend too much time thinking about those times. "Honestly, I don't like to harp on the negative or feel sorry for myself. You know … it just is what it is," she said. Instead of letting herself get dragged down by negativity, she puts her energy into making herself stronger as a celebrity and as an artist. "Just, be resilient," she said of her philosophy. "They'll give up." Those are definitely words we could all live by.
Jennifer Lopez reunited with Ben Affleck after realizing she was on the wrong path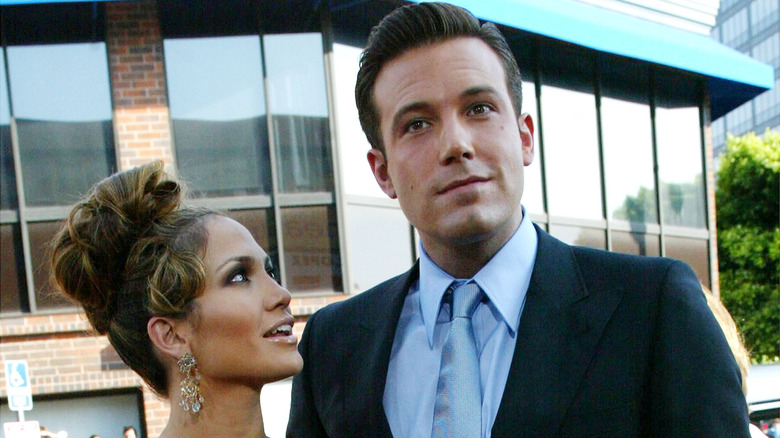 As Jennifer Lopez fans may already know, she and Ben Affleck shocked the world in 2021 when they revealed through a series of Instagram photos that they were back together shortly after Lopez broke up with her fiancé, Alex Rodriguez. Lopez and Affleck had, of course, been labeled by the media as "Bennifer" when they famously dated from 2002 to 2004 — almost two decades earlier.
As Lopez explained to Entertainment Tonight, she rekindled her relationship with Affleck after she realized her relationship with Rodriguez just wasn't right for her. "Once you get to the point where you're like, 'This is not right for me,' or, 'This doesn't feel good,' … stuff starts falling into place." She went on to explain that it hadn't been easy breaking up with Rodriguez, but she had done it because it felt like the right thing for her to do.
Jennifer Lopez used to feel overwhelmed by the tabloids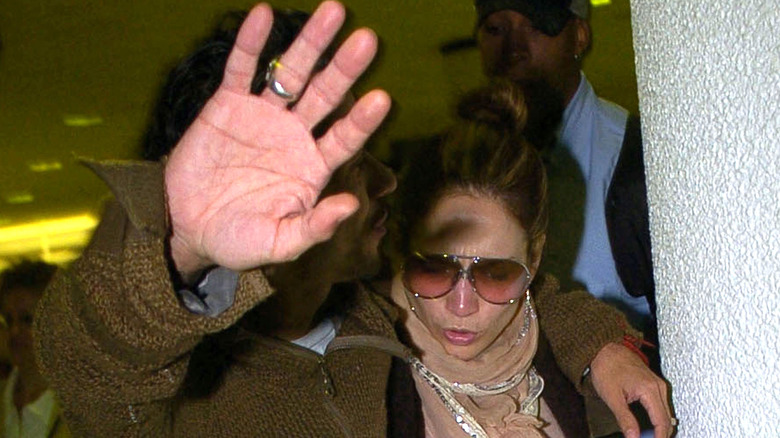 One of the hardest things about Jennifer Lopez's early career was dealing with an overly inquisitive press. She and her love interests over the years were constantly featured on the front pages of the tabloids, and, as a young woman trying to find her way in the entertainment industry, Lopez found it difficult to adjust to the overwhelming pressure. As she explained to CBS, it got especially bad when she was with Ben Affleck. "I remember, like, stacks of magazines, and we were on it every week," she recalled. "It was scary. It was overwhelming for both of us."
There were times, Lopez said, that she felt frustrated by the untrue rumors and speculation about the pair. Ultimately, the experience taught her that she had to try to ignore the press. "I just have to live my life in a way that I'm proud of, and everything's going to be okay," she said. Those are definitely some inspirational words from JLo — clearly, she came out the other side of the tabloid era stronger than ever.
Source: Read Full Article