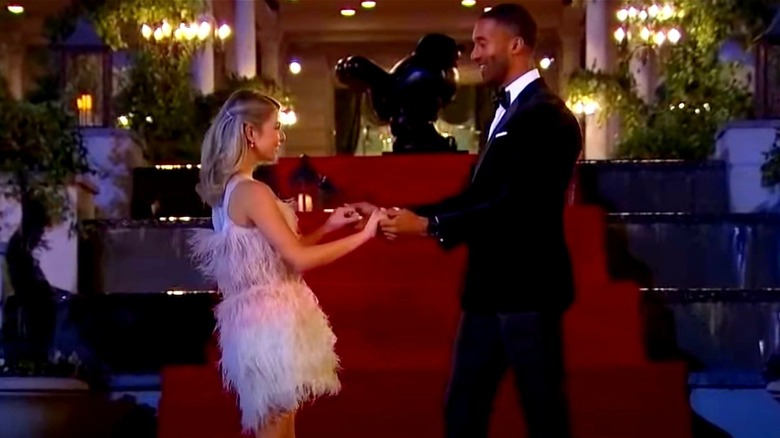 Throughout its long 25-season history, contestants on "The Bachelor" have dressed to impress as they walk out the limo at the Bachelor Mansion. While some take unique (and at times just plain weird) approaches to their entrances, sometimes a good dress can speak volumes and give you the extra confidence boost you need to speak with the man waiting outside. 
Dating the same man as 30 other women is not easy — with only limited time first introductions are key to catching the season's Bachelor's eye. Although we won't be seeing a runway of gowns and dresses this year — instead of the usual "Bachelorette", "Bachelor in Paradise", and "Bachelor" sequence, ABC is instead producing two seasons of "The Bachelorette" featuring Katie Thurston and Michelle Young from Matt James' season — we can still reminisce about the showstoppers of seasons past. 
According to Bachelorette stylist Cary Fetman, the perfect night-one dress is something with heavy sequins at the bottom for easy cleaning, and of course something comfortable for the long night ahead. "It can't be something that is absorbed and is filthy, because it's a really long night. You can't worry about the fact that every time you cross your legs, the bottom of your dress is completely ruined," Fetman told Bachelor Nation.  
But for first-time contestants finding the perfect gown may be a little harder. Upon getting cast, contestants immediately sign NDAs preventing them from disclosing their participation in the show, which makes it harder to ask brands for discounts. Regardless, The Bachelor has had some wonderful first night looks since its start.
Windmills are the season's best accessories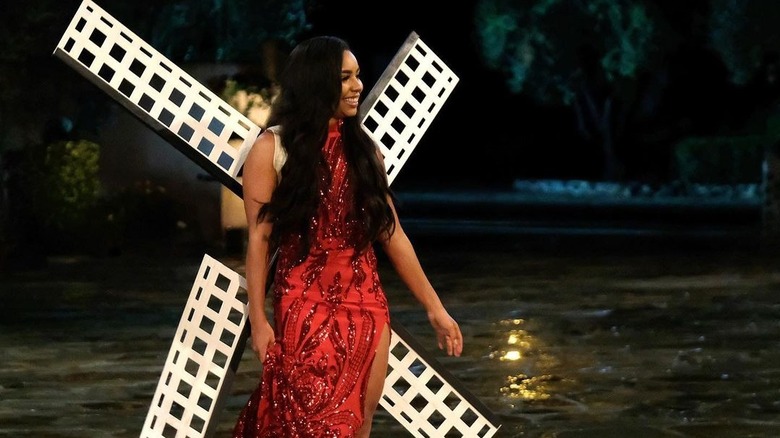 Pilot Pete flew into our hearts with the start of his own season of "The Bachelor". Weber quickly became a fan favorite during his time in Hannah Brown's season of "The Bachelorette". Unfortunately, his season was marred with post-production engagements, break-ups and relationships. 
But before all the post-show drama, the ladies on Weber's season came flying in with the puns. So it was no surprise when Weber's first night was filled with references to his famous time in the windmill with Brown. Contestant Deandra Kanu wore a deep red gown with sequin accents. The high-neck and high slit dress perfectly paired with the night's most on-the-nose accessory — a white windmill on her back. 
Propelled by the turbine on her back, Kanu had only one question for the pilot: "Are you ready for round five?" referencing the four times Brown and Weber had sex in the windmill (via Pop Culture). Other than gorgeous dresses and witty puns, Kanu also became known for her vivid facial expressions and reactions (via Showbiz).
Katie came in hot and brutally honest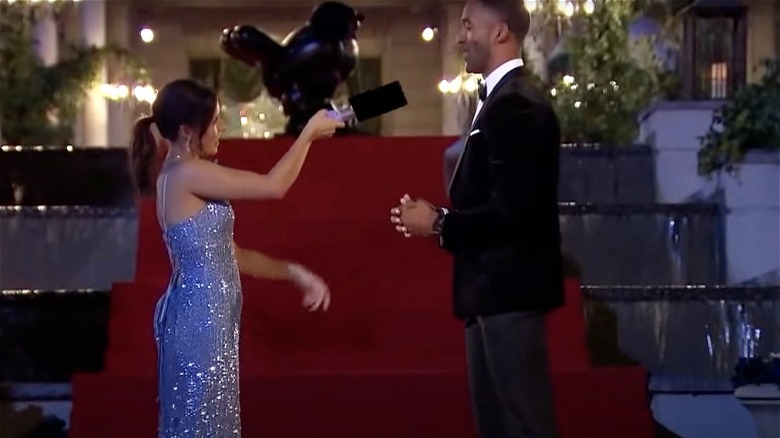 Before she was the newest Bachelorette, Katie Thurston made her mark during Matt James' controversial season of "The Bachelor" by making quite the entrance. Wearing a sparkly silver gown, Thurston's most iconic piece came from her accessories. Apart from dainty silver jewelry, Thurston paired her evening gown with a sparkly, lit up vibrator. The toy, she said, was one of the main things that got her through quarantine and was thus passing the torch to James.
The sex toy clearly left a mark on the season's Bachelor. "I haven't seen something that big before," James told E! News. "It was extremely distracting, you know, making noises and just catching light in a bunch of different ways, so it's hard to stay focused."
As Thurston's season premiers, the newest Bachelorette was not afraid to reference her cheeky entrance, telling viewers to "see what all the BUZZ was about" in an Instagram caption (via MSN).
Say bye-bye to dresses, hello to jumpsuits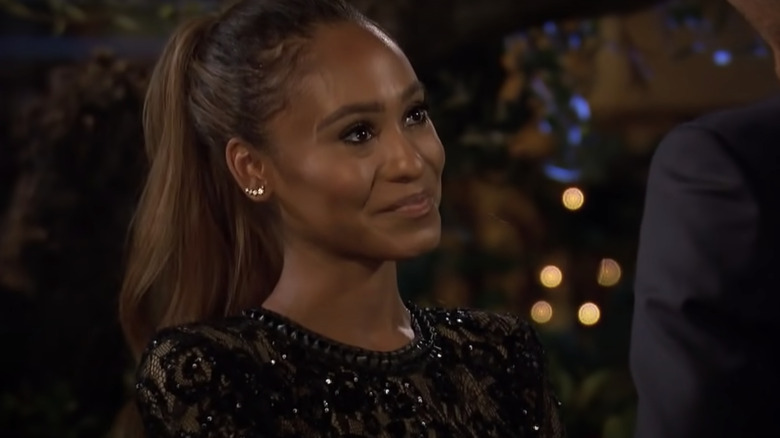 In a sea of gowns, finding something to stand out may feel like reinventing the wheel. But contestant Lauren Jones re-invented the first-night dress by wearing a sparkly and sheer lace jumpsuit. 
Also a contestant in Weber's drama-filled season, the California-based marketing executive wore one of the more daring looks of the night (via Bustle). Paired with a sky-high pony-tail, Jones certainly stood out amongst the gowns and wavy curls of the night.
A sparkly gown with a rolling accessory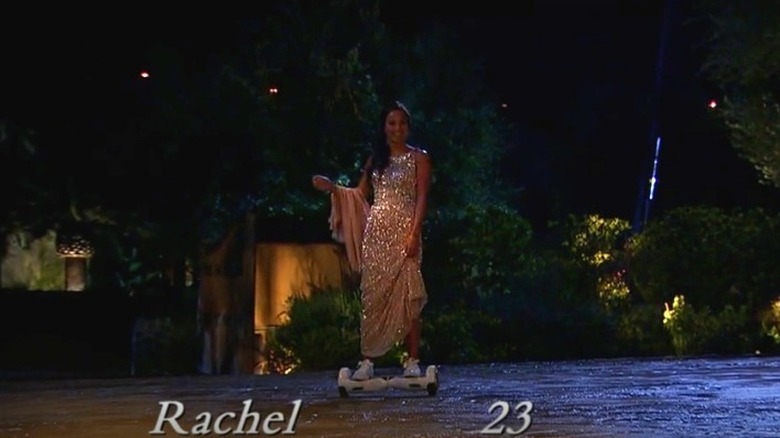 Remember 2016? A year known for many defining moments, perhaps the most important of them was the resurgence of the Hoverboard.
Waltzing, or should we say rolling, into Ben Higgins' season of "The Bachelor", contestant Rachel entered the Bachelor Mansion wearing a sparkly silver gown. The high-neck silver and tan look included a sheer trail, held up by Rachel matching her side ponytail. Paired with white sneakers and a white hoverboard, the look was the perfect combination of sophisticated and cool.
Rachel also made headlines for being brutally honest in her occupation — unemployed. The now 28-year-old from Little Rock, Arkansas received quite the reviews for her entrance, the Chicago Tribune likening her gown and hoverboard combination to that of a "thirteen-year-old boy". 
Regardless, Rachel left her impression on Higgins, calling her entrance "the coolest thing" and sealing the introduction with a hug (via Hulu). While Rachel did ultimately win Higgins' heart, she fully put herself (and her hoverboard) out there. For what it's worth, who hasn't been unemployed and looking for love?
Simple and casual highlighted Cassie's natural beauty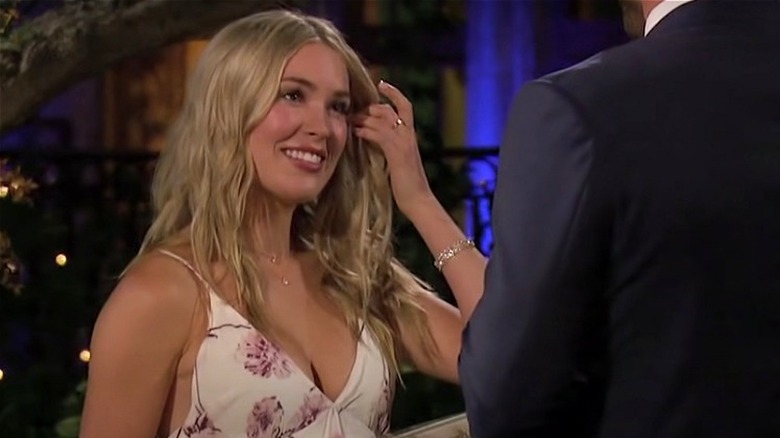 Eventual front-runner Cassie Randolph stole Bachelor Colton Underwood's heart from night one. Wearing a midi white dress with pink and lilac flowers, Randolph's dress stood out from the sea of sequins and the staple black and red dresses. Paired with simple strappy sandals, Randolph's simple make-up accentuated her natural beauty.
The dress perfectly matched the speech therapist's beachy California vibe. The dress' high-low hem added to her bohemian look, and the flowers paired perfectly for the butterflies she brought on for her entrance (via Elite Daily). 
After the show Randolph and Underwood continued dating for a year, even quarantining together during the beginning of COVID-induced lockdown. However their relationship quickly turned sour. Randolph currently holds a restraining order against Underwood after the former Bachelor allegedly stalked her home and put a tracking device in her car (per People). After Underwood came out as gay during an interview with "Good Morning America", Randolph took some time to process the news, but did not address her ex-boyfriend's big news.
You can never go wrong with a classic LBD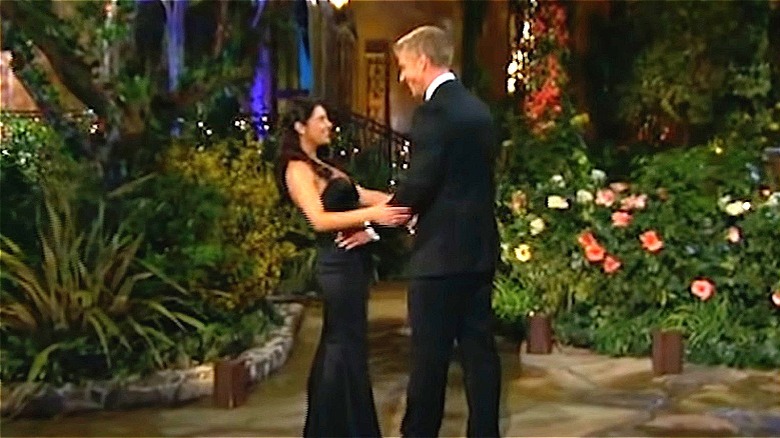 When in doubt, opt for a LBD — also known as a little black dress. A staple in all women's closets, the perfect black dress can be dressed up and down and worn to your favorite event.
Contestant Selma Alameri showed the power of a black dress during her time in Sean Lowe's season of "The Bachelor" in 2013. The real estate developer wore a classic black dress gown that was sophisticated yet sexy. The sweetheart neckline perfectly complemented Alameri's shape and was a stunner for sure. Lowe certainly thought so, as he told Alameri, "That's just, like, sultry," (via People).
While Lowe did not end up giving his final rose to the lady in the black dress, he did end up finding love with Catherine Giudici, and the pair remain together as one of the franchise's few couples to have tied the knot after production.
Source: Read Full Article