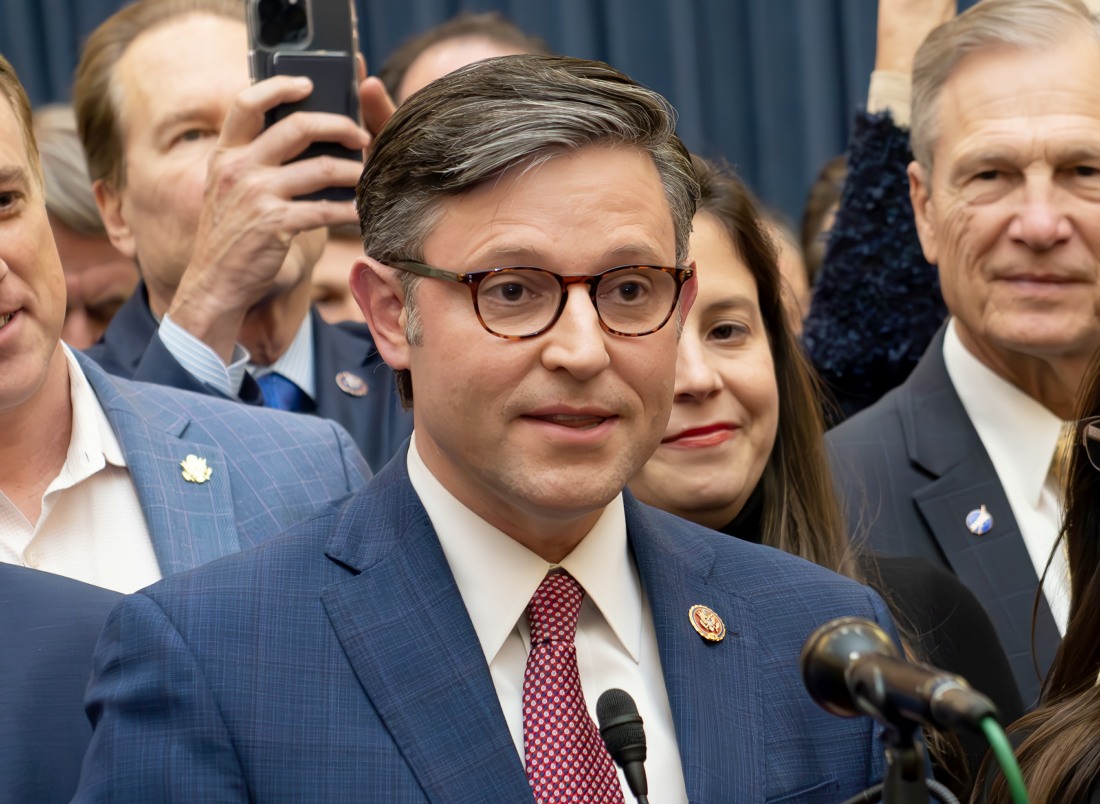 Are you surprised that after three weeks of political turmoil, MAGA ratf–king and homophobic nuttery, the Republicans suddenly got it together over the course of 24 hours and have now confirmed a Speaker of the House? Once Tom Emmer got taken to the woodshed by the craziest members of the GOP caucus, I figured we would have another two weeks of chaos. But no – they pushed Rep. Mike Johnson through on Wednesday. He won 220 votes. So who is Mike Johnson of Louisiana? A bigot, a ratf–ker, a homophobe, a Christofascist and the man who will do the most to serve Donald Trump's interests. From WaPo:
He opposed certifying the 2020 election:
Johnson, 51, contested the results of the 2020 election — urging President Donald Trump to "stay strong and keep fighting" as he tried to overturn his loss to Joe Biden in the presidential race. Johnson also objected to certifying Biden's electoral win and was one of the architects of a legal attack on the election that consisted of arguing that states' voting accommodations during the pandemic were unconstitutional. He led a group of 126 Republican lawmakers in filing an amicus brief to the Supreme Court alleging that authorities in Georgia, Pennsylvania, Wisconsin and Michigan had "usurped" the constitutional authority of state legislatures when they loosened voting restrictions because of the pandemic. The court rejected the underlying complaint — filed by the state of Texas — citing a lack of standing, and dismissed all other related motions, including the amicus brief.

He voted against further Ukraine aid:
Johnson, who serves on the House Armed Services Committee, was one of 57 lawmakers — all of them Republicans — who voted against a $39.8 billion aid package for Ukraine in May.

He is antiabortion:
Johnson, a constitutional lawyer who identifies as a Christian, opposes abortion and has celebrated the Supreme Court's decision to overturn Roe v. Wade, the landmark 1973 ruling that had established constitutional protections for abortions nationwide.

He is a close ally of Donald Trump's:
Johnson is a close ally of Trump's, having served on Trump's legal defense team during his two impeachment trials in the Senate.He has called charges against Trump — which include a federal case relating to his attempts to overturn the 2020 election — "bogus," and has said the legal and political systems have treated Trump unfairly.

He supports LGBTQ+ restrictions:
Johnson has positioned himself on the far right of the political spectrum on several social issues, even within the current conservative Republican conference. Notably, he introduced legislation last year — modeled after Florida's "don't say gay" bill — that would have prohibited discussion of sexual orientation and gender identity, as well as related subjects, at any institution that received federal funds. The Human Rights Campaign, a pro-LGBTQ+ civil rights organization, gave Johnson a score of zero in its latest congressional scorecard.
[From WaPo]
Unsurprisingly, WaPo is actually soft-pedaling Johnson's homophobic bigotry – for years, he has supported the criminalization of gay sex and the criminalization of anything and anyone not cisgendered and heterosexual. He is a far-right extremist on LGBTQ issues, reproductive issues and democracy itself. He began his first day as Speaker by making a churchy speech from his new pulpit. Hakeem Jeffries also spoke on the floor and that grotesque nutjob Marjorie Taylor Green actually tried to shout him down. We are so f–ked.
— Patricia (@planetplantgirl) October 25, 2023
— Minority Leader Hakeem Jeffries (D-NY), after election-denier Rep. Mike Johnson (R-LA) is elected Speaker pic.twitter.com/RbacgT4CVC
— The Recount (@therecount) October 25, 2023
Photos courtesy of Cover Images.
Source: Read Full Article