If there's anything we know about Khloé Kardashian, it's that she loves to switch up her hair. She's tried everything from dark brown and honey bronze to platinum blonde and icy-white.
Following a recent stint with a brassy blonde color with brown roots, Kardashian debuted cornrows with pastel pink ends. While many people adore the look, lots of others are criticizing Kardashian and accusing her of "blackfishing."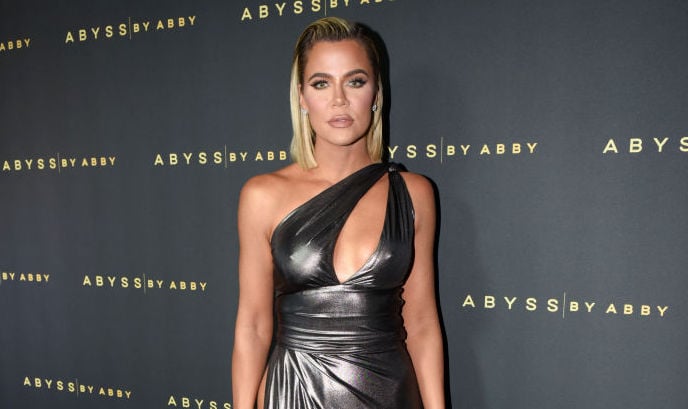 See Khloé Kardashian's latest hairstyle
Kardashian showed off her new hairdo in an Instagram post shared on March 7. Wearing a white top with blue jeans, she can be seen posing in a mirror with brownish blonde cornrows attached to a long pink ponytail.
Many people hit the comment section and gushed over the look. Among the commenters was Basketball Wives star Evelyn Lozada, who raved about how good she looked. Kardashian's right-hand Malika Haqq also chimed in and commented, "Go best friend!"
But others were enraged and accused Kardashian of "blackfishing" — a term used to describe someone who apparently presents themselves as black by using makeup, hairstyles, and other tools.
Fans are slamming Khloé Kardashian's braids
Fans have not been holding back on Kardashian, saying that she should not be wearing braids, which can be traced back thousands of years in African culture.
"Does she know she's not black or.. who wants to tell her," one person wrote while someone else begged, "Somebody please tell sis that ain't it."
"Stop appropriating our culture!!!" another demanded. "Your daughter and niece are black, you should educate yourself on cultural appropriation!!! Black people are being discriminated for this. You should be ashamed of yourself!!"
Then someone said, "Black women can't have anything I see."
But some people came to Kardashian's defense and said the Good American designer didn't mean any harm.
"I just honestly wish we could appreciate the beauty in styles from every culture and allow each other to create a piece of it," one person wrote. "If she's wearing it's not to take over a culture, it's because she thinks it's beautiful!"
Kardashian herself has yet to weigh in on the matter.
She's not the first sister to face backlash for wearing braids
Her baby sister Kylie Jenner came under fire for cultural appropriation back in January when she posted an Instagram photo with her hair in twists, which also has roots in black culture.
People left all kinds of comments on the post — from saying Jenner "wanted to be black so badly" to pointing out how black people often lose jobs and are viewed as "ghetto" for wearing such styles even though white people think of them as fashionable. As the criticism mounted, Jenner deleted the photo.
She's not the only sister who has been in this kind of trouble, either. Kim Kardashian West has also received criticism on several occasions for wearing her hair in braids. She ignited a firestorm in 2018 when she stepped out with Fulani braids but strongly defended herself in a later interview with ELLE.
"If you genuinely love something, then it's what you should do. It's appreciation," she told the outlet. "It's one thing when people mock something and are negative. I'm clearly not being negative. Images mean a lot to me. I spend a lot of time on them."
Despite the backlash, Kim has continued to wear her hair in braids, as recently as early March when she wore chunky ones to Paris Fashion Week. We'll see if her little sister, Khloé, follows suit or chooses to give the braids a rest.
Source: Read Full Article